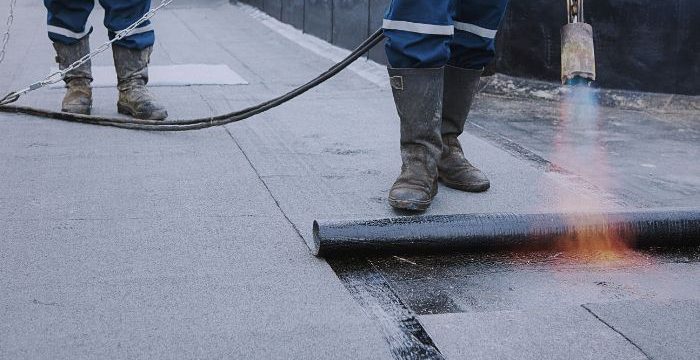 August 9, 2023
By: hostaus
Repairs
Comments: 0
Cost-Effective Commercial Roof Maintenance: Repairing Now vs. Replacing Later
In the realm of your commercial property, your roof serves as the ultimate guardian against the elements. A well-maintained roof not only guarantees the security of your assets but also contributes to the overall appearance and functionality of your business space. As a prudent property owner, you're often presented with the choice between taking proactive repair measures now or potentially facing a complete replacement in the future. In this comprehensive guide, we'll delve into the dynamics of cost-effective commercial roof maintenance. We'll explore the advantages of promptly addressing minor issues versus the potential financial and operational consequences of postponing repairs until a full replacement becomes a necessity.
Addressing Minor Issues Responsibly
Imagine a small leak, seemingly insignificant, gradually making its way through your roof. If left unattended, this minor concern can gradually escalate into a major problem, leading to extensive damage to your property and causing disruptions to your business operations. This is where the concept of cost-effectiveness comes into play. By conducting timely repairs to your commercial roof, especially when issues are in their early stages, you'll find that the expense is significantly lighter on your finances compared to the substantial cost of a complete roof replacement.
The Domino Effect of Neglected Maintenance
Visualize a loose shingle or a small crack in your roof. It's easy to dismiss these minor issues as inconsequential. However, every seemingly small problem has the potential to set off a chain reaction of larger and more complex troubles. Neglected maintenance often sets the stage for a cascading effect, where one problem triggers another, leading to increased repair expenses and a greater disruption to your business.
The Consequences of Delay
Delaying commercial roof repairs might seem like a way to cut costs in the short term, but it can have significant long-term implications. As minor issues continue to worsen unchecked, they can compromise the structural integrity of your entire roof. A compromised roof not only puts your property at risk but also necessitates costly repairs and potential interruptions to your business operations.

The Wisdom of Early Intervention
Consider commercial roof maintenance as an investment rather than an expense. By addressing minor problems promptly, you're essentially safeguarding your business against major financial setbacks down the road. The initial cost of repairs pales in comparison to the financial burden of a complete roof replacement. This doesn't even account for additional expenses resulting from property damage and interruptions to your business operations.
Calculating the Savings
Let's break it down with a practical example. Think about a minor leak that, if repaired promptly, costs a fraction of what a complete replacement would entail. In this scenario, the savings achieved through proactive maintenance are undeniable. Moreover, the swift turnaround time for repairs ensures that your business activities remain uninterrupted, minimizing downtime and maximizing your revenue potential.
Expert Assessment and Informed Decisions
In the realm of commercial roofing, knowledge is a valuable asset. Collaborating with a professional roofing service provides you with precise assessments and well-informed decisions. Roofing experts can identify potential issues before they escalate, guiding you toward the most suitable action plan that aligns with your budget and long-term objectives.
The Environmental Impact
Cost-effective commercial roof maintenance isn't just about your finances; it's also about environmental responsibility. A properly maintained roof contributes to energy efficiency, reducing your carbon footprint and decreasing your utility expenses. Minor repairs, such as sealing leaks and replacing damaged insulation, enhance your insulation capabilities, ensuring your business space remains comfortable throughout the year.
Conclusion: The Value of Timely Action
When it comes to commercial roofing, the saying "a stitch in time saves nine" is particularly apt. The advantages of cost-effective roof maintenance go beyond immediate financial gains. They encompass the preservation of your property, the seamless flow of your business operations, and an ecologically conscious approach to building management.
The decision between repairing now and replacing later ultimately rests with you as a business owner. At Roof Repairs Services, we specialize in comprehensive commercial roof maintenance, delivering customized solutions that harmonize with your financial resources and business aspirations. Get in touch with us today to schedule an expert assessment and take the initial step toward economical roof management.