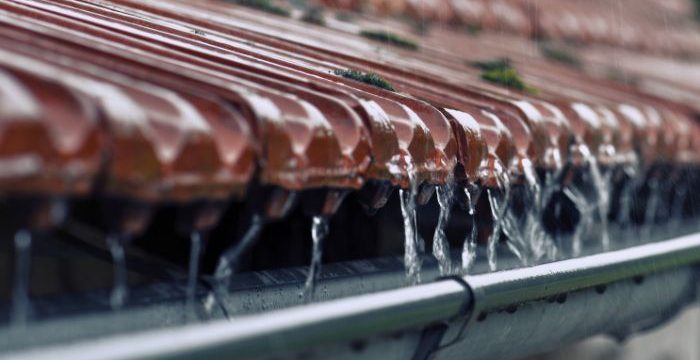 August 10, 2023
By: hostaus
General
Comments: 0
The Functional Role of Roof Design in Effective Water Drainage
When it comes to roofing, most homeowners are quick to consider aesthetics – the color, style, and overall look. However, beneath the surface (or shall we say, over the surface), a roof's design plays a pivotal role in a home's longevity and structural integrity. Beyond mere appearances, a well-thought-out roof design serves a crucial purpose: efficient water drainage. Roof design plays a big part in this. It's like a clever puzzle that helps make sure rainwater doesn't cause problems for our houses. Let's learn how it works and why it's so important.
Roof Slope and Pitch

Imagine your roof as a giant umbrella that shields your home from rain, snow, and other forms of precipitation. The key to its success lies in its slope and pitch. Roofers craft these angles with precision, enabling gravity to guide water away from vulnerable areas. Whether you reside in a region that's rain-soaked or snow-covered, the slope ensures that water doesn't linger, reducing the risk of leaks, rot, and water-related havoc.
Gutters and Downspouts: The Unsung Heroes
Now, let's shift our gaze to the trusty gutters and downspouts. These unsung heroes are the highway system of your roofing world. They collect the runoff from your roof's slope and pitch, guiding it safely away from your home's foundation. Picture this: without gutters and downspouts, rainwater would cascade down your walls, slowly eroding the very base your home stands on.

Flawless Flashing: Where Intricacy Meets Purpose
Roof design's complexity shines in its intricate details, like flashing. This concealed material seals the vulnerable points of your roof, such as chimneys, skylights, and vents. By creating a watertight barrier, flashing ensures that water doesn't seep into your home through these openings. It's a blend of art and functionality – a visual symphony that prevents water's unwelcome intrusion.
Ventilation: The Balancing Act
Ventilation, often overshadowed by more flamboyant roof aspects, performs a delicate balancing act. It expels moisture and heat from your attic, safeguarding against mold, rot, and ice dams. In winter, it prevents excessive condensation that could weaken your roof's structure. During summer scorchers, ventilation helps cool your home and extends the life of your roofing materials. It's a dance of subtlety that only a well-designed roof can orchestrate.
In essence, beneath that stunning array of shingles or metal panels lies a marvel of engineering that orchestrates the intricate ballet of water drainage. The next time you admire your roof, consider its multifaceted role in protecting your home. It's not just about looks; it's about the functional harmony of design that keeps your castle safe and dry. So, as you gaze upon your roof, know that it's more than meets the eye – it's a masterpiece of form and function working together in perfect harmony.